Batman's Tumbler Rolls into Trafalgar Square for the Launch of 'Batman Unmasked
Ahead of Batman Day on 16th September, The Tumbler, the iconic Batmobile from The Dark Knight, arrived in Trafalgar Square this morning as part of a celebration of 15 years of the film and 100 years of Warner Bros. Pictures.
Driven by Christian Bale in Christopher Nolan's The Dark Knight and The Dark Knight Rises, The Tumbler's arrival in Trafalgar Square signals the launch of Batman Unmasked, a UK first-of-its-kind Batman immersive pop-up.
Celebrating the annual, global Batman Day, Batman Unmasked will open for an exclusive run of three days from 15th-17th September. With the event selling out within hours, the immersive experience is set to take fans on a fascinating journey through the Caped Crusader's legendary history, descending into an immersive Batcave and showcasing releases spanning from 1989 to 2022, including Batman (1989), Batman Forever (1995), Batman & Robin (1997), Batman Begins (2005), The Dark Knight (2008), The Dark Knight Rises (2012), Batman v Superman: Dawn of Justice (2016), Justice League (2017) and The Batman (2022).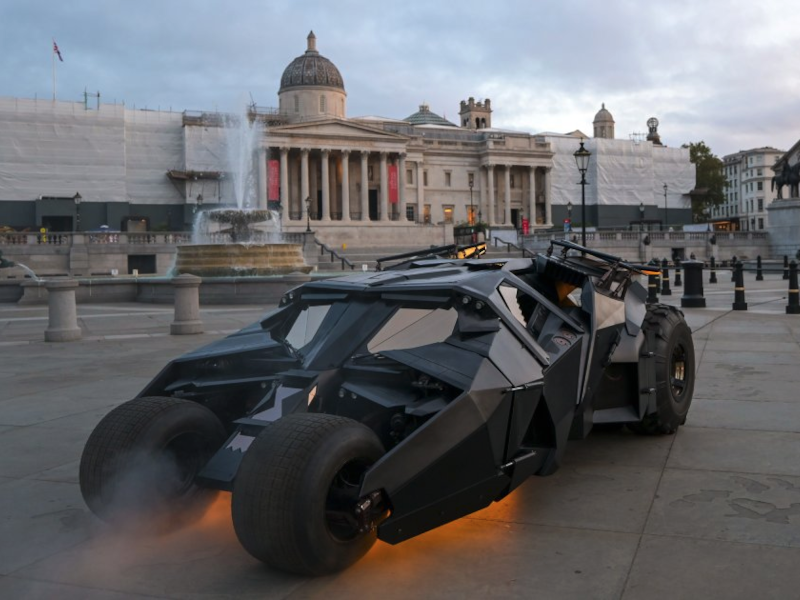 Alongside Batcycles from The Dark Knight (2008) and The Batman (2022), the experience will feature props and costumes which have never been seen together, and that were used by Michael Keaton, Val Kilmer, George Clooney, Christian Bale, Ben Affleck, and Robert Pattinson.
Ahead of The Joker coming back to the big screen in 2024 in the highly anticipated Joker: Folie à Deux, fans will also be able to explore The Joker zone, which is a celebration of the notorious DC Super-Villain. Two of Heath Ledger's costumes from The Dark Knight (2008) will be displayed in the UK for the first time ever, as well as Joaquin Phoenix's costume from Joker (2019), alongside iconic props.
To celebrate the 15th anniversary year of The Dark Knight, the film will also be returning to select cinemas nationwide from September 15th – 17th alongside The Joker and Batman to celebrate Batman Day.
At home, fans will be able to join the Batman Day celebrations with special Batman programming on Sky and Cartoon Network. Sky will be airing nine Batman titles on Sky Cinema across 16th and 17th September, along with 17 Batman titles on demand, whilst Cartoon Network will screen Teen Titans Go! and Batwheels on 16th and 17th September as well as new Batman compilations on Cartoon Network YouTube channels.
WB Shop are further commemorating Batman Day by giving fans 15% off their expanded Batman collection between 14th-16th September. Hamleys will be celebrating on 16th September with in-store activity featuring a character visit and face painting. Other UK retailers will also support with promotions including HMV, Zavvi, The Entertainer, Smyths Toys & Amazon.
For more information, check out DC Social channels @dcukofficial and DC Facebook.
Batman Unmasked is open 15-17 September
Batman Unmasked will be located at 180 Piccadilly, St. James's, London W1J 9ER
Tickets available via See Tickets,com/tour/batman-unmasked, with an admin charge of £3.50 per ticket
Additional walk-in entry will be available each day on a limited basis
Please note, the venue does have a small number of confined spaces as well as incorporating lighting and sound effects to enhance the experience, visitor discretion is advised
Under 16s must be accompanied by an adult
Fully accessible venue
For more information visit com/tour/batman-unmasked
Brand new Batman Day products available from WB Shop warnerbros.co.uk/collections/dc/batman