Ground Up X Foot Locker Little Mermaid Collaboration
Go On Adventures On Land and Under the Sea Like Ariel In The Ground Up X Foot Locker Exclusive Sneaker Inspired by Disney's The Little Mermaid
Footwear company Ground Up International has unveiled a brand-new luminescent high-top sneaker in collaboration with Kids Foot Locker and Foot Locker Kids. Fans of the recently released Disney's The Little Mermaid, can now flaunt their style with these sea-stopping kicks. All infant sizes come with elastic laces, while preschool and grade school sizes include cotton laces.
Get ready to make a splash in the brand-new The Little Mermaid High-Tops. For any fashion-forward adventurer looking to make a statement this season, these kicks are a must-have. Inspired by Ariel in Disney's The Little Mermaid, these high-tops incorporate a color scheme of pastel hues and iridescent accents that are guaranteed to catch everyone's eye.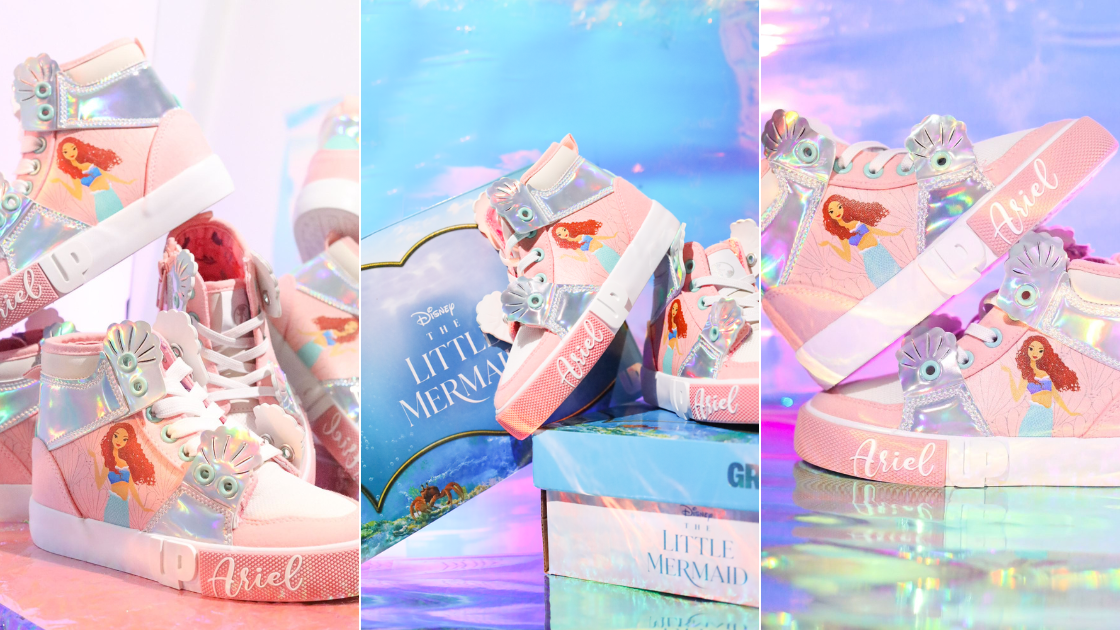 The front of the shoe features iridescent synthetic leather of seashells that wraps around the front of the shoe and onto the laces, alongside white, pink, and turquoise details in various materials. The shells can either stick out like 3D shapes or the laces can be tied to weave between them. The shoe is completed with a silver metallic woven label in the silhouette of Disney's Ariel. The outside of the shoe boasts a stunning screen print of Disney's Ariel herself, set against a shell background, with her name in an elegant cursive font on the toe bumper. The interlining of the sneaker features an all-over print of oceanic artwork, including starfish, seashells, and fish. Ensuring your little one has a piece of the ocean wherever they go.
The interlocking "Up" symbol on every sneaker represents the connections we make every day with Ground Up, our friends and families, our favorite brands, and ourselves.
Ground Up's brand mission is to fulfill the need for fun. They provide customers the freedom to express themselves through their favorite fandoms. The company is dedicated to fostering creativity and facilitating collaboration between their footwear and everyone's favorite brands. Regardless of age, Ground Up is suitable for the entire family. The brand promises to include fashion and fun in your daily life.