Key Attractions Coming to Peppa Pig Park Gunzburg in 2024
Family-Friendly Thrill Ride Designed to be the First Real Roller Coaster for Brave Little Ones
Limited First-to-Play tickets for the Peppa Pig Park Günzburg are available now
Peppa Pig Park opening in 2024 just steps away from Legoland Deutschland, will feature a total of five attractions and seven different Peppa-themed playgrounds.
Among them is Daddy Pig's roller coaster – a first real roller coaster experience for toddlers and preschoolers.
The perfect first theme park experience for preschoolers
Construction is progressing rapidly on the site of the planned Peppa Pig Park in Günzburg, Bavaria, scheduled to open in 2024. Manuela Stone, Managing Director of LEGOLAND Deutschland Resort, showed this today at a site visit to regional press representatives and Gerhard Jauernig, the mayor of the city of Günzburg. In Peppa Pig Park, there will be a total of five attractions and seven different Peppa-themed playgrounds where families can immerse themselves in the colorful world of the lovable character. One of the big highlights: A real roller coaster for preschoolers. With Daddy Pig at the wheel of his red car, little ones zoom around an exciting but child-friendly track for two laps. Her littlest fans can be confident taking on this new adventure with their best friend Peppa by their side.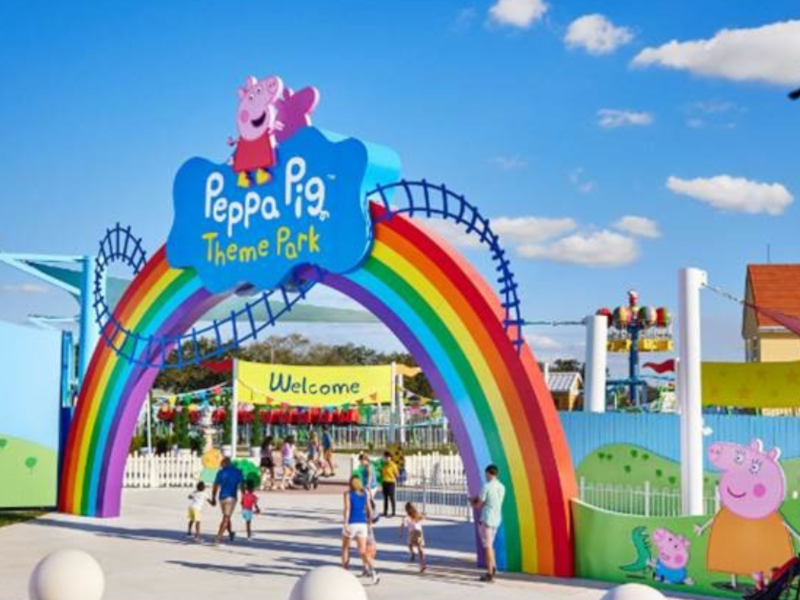 "At Peppa Pig Park in Günzburg, families with preschoolers are at the center. We are creating a place where our youngest visitors can experience wonderful moments with the wildly popular, Peppa Pig. All attractions and experiences will be tailored to meet the needs and preferences of our smallest guests," explains Stone. "A very special experience for our guests will be to get into Daddy Pig's red car, which Peppa loves, and zoom together with him over the roller coaster track. Children know Peppa Pig and her stories from TV. From 2024 they can become part of this Peppa world themselves and collect their own unforgettable Peppa experiences."
Peppa Pig's Success Story Continues in Germany
Following the resounding success of the first US-based standalone Park in Florida last year this new Peppa Pig Park marks the 10th collaboration of Merlin Entertainments with Hasbro's Peppa Pig, one of the most cherished, beloved and followed pre-school brands in the world.
CEO Scott Oneil Quote:
"We are equally excited as we are humbled to be entrusted by Hasbro to continue bringing Peppa Pig to life, this time as Europe's first standalone Peppa Pig Park in Günzburg. Since our partnership announcement with Hasbro in 2017, we have delivered new opportunities for children to learn and play, and this park will join our existing five Peppa Pig World of Play attractions spanning the globe from China to the United States, Peppa Pig themed-lands at our resort theme parks, Gardaland and Heide Park, and Peppa Pig Park in Florida."
"We have positioned this Peppa Pig Park adjacent to LEGOLAND® Deutschland, aligning with our broader vision to deliver mega-clusters of branded entertainment destinations in important tourist locations worldwide, giving guests a diverse range of attractions and activities to create more unforgettable memories during their short-stay trips. We hope to see you at the Park to welcome Peppa Pig, George Pig, Suzy Sheep, Rebecca Rabbit and their lovable companions to Germany."
"Merlin has been a trusted partner for the last six years and we are thrilled to continue our journey with them to bring more Peppa experiences to fans globally, including this exciting addition of a new Peppa Pig Park in Gunzburg, Germany," said Matt Proulx, Vice President of Experiences, Partnerships and Music at Hasbro. "2024 is a big year for Peppa with the brand's 20th anniversary, and we couldn't be happier to add this park as another meaningful way for families to create lifelong memories with Peppa and her friends."