Maui and Sons Launches a Killer Collaboration with JAWS
Just when you thought it was safe to go in the water… surf and lifestyle brand Maui and Sons® makes a splash by collaborating with the iconic summer blockbuster, JAWS this summer for a Walmart.com exclusive Two signature brands both born from water, come together and cast a line of JAWS-inspired apparel and swim with Maui and Sons' signature neon pops of color.
The Don't Go in The Water capsule is inspired by the 1975 summer thriller film from Universal Pictures and Amblin Entertainment, where a great white shark wreaks havoc on the town of Amityville, while one of the most recognizable theme songs of all time electrifies the screen. Dun-a-dun-a.. In this exclusive capsule, JAWS meets his match with Maui and Sons' legendary Sharkman, the protector of the deep. The dynamic duo of JAWS vs. the iconic Sharkman make waves across an assortment of graphic tees, tanks, pool shorts and compression hybrid shorts.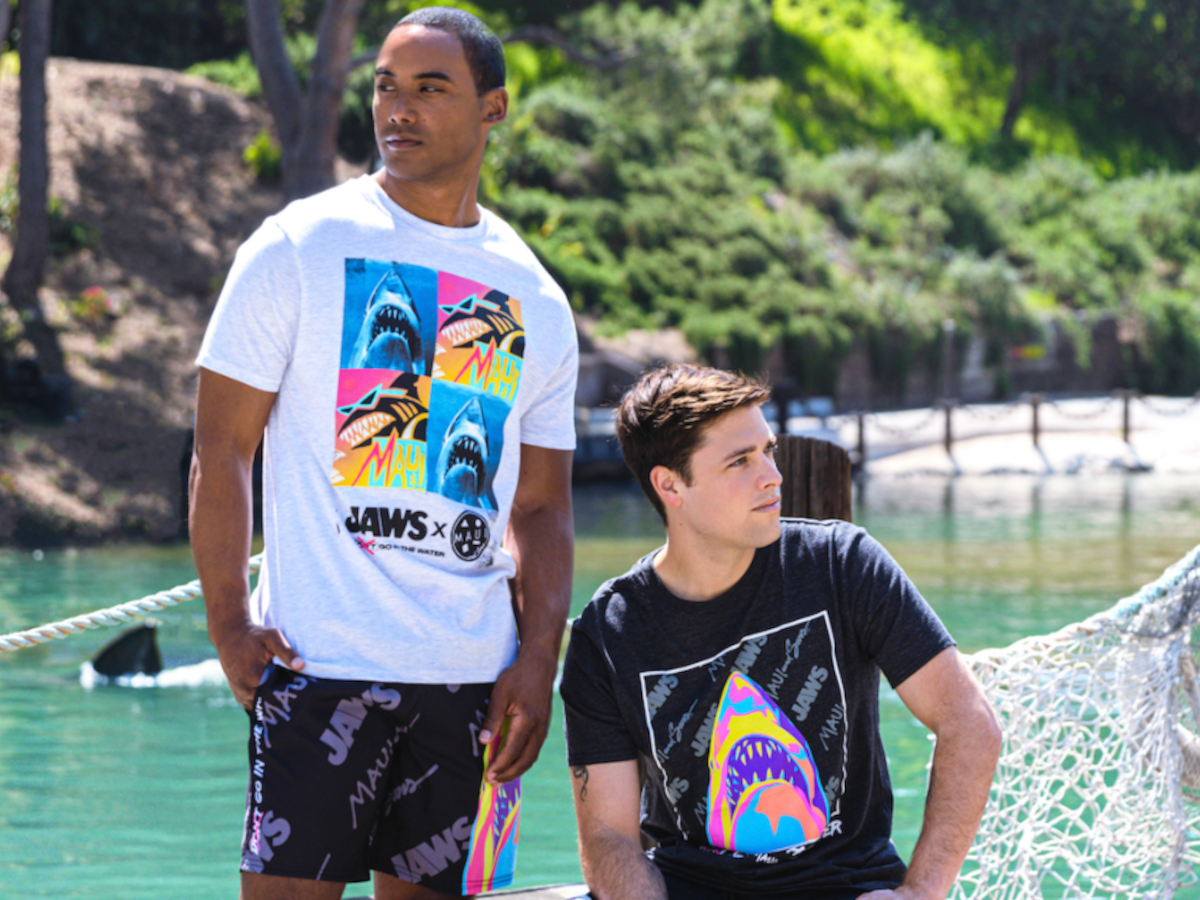 Each piece within this collection pays homage to the vintage aesthetic of this classic film, with an exciting modern take on an 80s twist. The 'Big Mouth' graphic features the Jaws cover image, painted with neon waves. The 'Double Vision' graphic faces off JAWS x Sharkman with a checkerboard style print on the graphic tee and a graphic on each leg of the pool shorts. 'In The Water' displays the classic shot of JAWS amongst the boat wreckage, framed with a Maui and Sons original cookie logo emblem. 'Eat 'Um Up' makes a splash with a cartoon style JAWS taking a bite of the Maui and Sons logo. JAWS x Maui and Sons Product Collection:
Big Mouth T-Shirt ($14.98)
Double Vision T-Shirt ($14.98)
In The Water Tank ($12.98)
Eat 'Em Up Tank ($12.98)
Big Mouth Pool Short ($23.00)
Double Vision Pool Short ($23.00)
Stealth Compression Hybrid Pool Short ($25.00)
In The Water Compression Hybrid Pool Short ($25.00)
JAWS© Universal City Studios LLC and Amblin Entertainment, Inc. All Rights Reserved.